Have you been using too many skin care products, but your skin is still damaged? That is true; such things do occur. It's exhausting trying to keep up with the latest and greatest skincare products when all you actually need is one that uses a single, effective, and completely natural ingredient, like rosehip oil.
Let's find out more about this all-natural cosmetic.
What is rosehip oil?
The oil that has been pressed from rose hips is known as rosehip oil. Once a rose has flowered and the petals have fallen, a fruit called a hip is left behind. Supercritical carbon dioxide (CO2) extraction is used in Kosmas's one-of-a-kind technique rather than using heat or chemicals. Skin experts agree with this, the oil keeps its potential therapeutic effects and high Vitamin A content.
What are the benefits of rosehip oil?
Antioxidants like the vitamins in the oil are useful in the battle against free radicals. Moreover, the skin absorbs the oil's important fatty acids, which include oleic, linoleic, palmitic, and gamma-linolenic acids, and converts them into prostaglandins. These chemicals help in the repair of damaged tissues and cell membranes. Also, the oil enhances skin health and slows the aging process.
The oil has an unpleasant scent (like most oils) and can be preserved for up to two years when combined with vitamin E. And now we get straight to the point.
Rosehip oil skin benefits
Due to its many virtues, rosehip oil is an outstanding component for beautiful skin.
1. It keeps your skin hydrated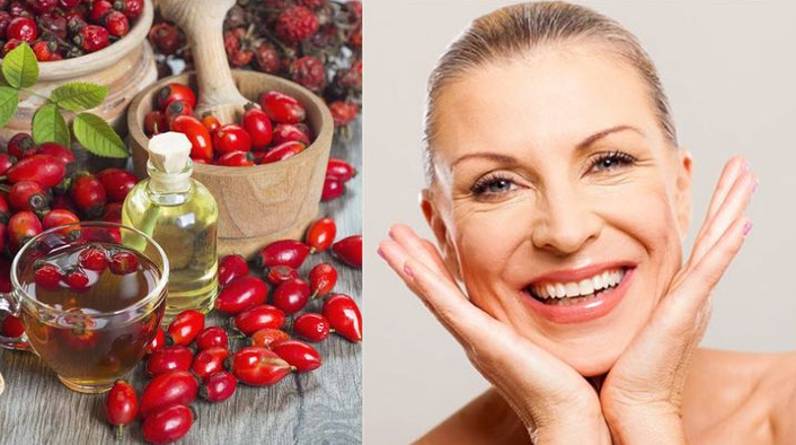 Water is essential for maintaining supple skin. It's common to have dry skin and subsequent cracking in severe weather. Rosehip oil contains healthy fats like linoleic and linolenic acid in abundance.
When it comes to maintaining healthy cell membranes, fatty acids are crucial. In doing so, it reduces water loss by providing structural support.
Thus, fatty acids are necessary for skin hydration. You may get a lot of healthy fats from rosehip oil. Applying oil to the face allows the antioxidants to be absorbed by the skin and work their way to the deeper layers of the skin.
2. Anti-aging care
Rosehip oil has anti-inflammatory fatty acids and vitamins A and C, which are all necessary for a healthy and beautiful appearance. Due to its unique composition, rosehip oil is able to treat aging and pigmentation, hydrate and repair damaged skin, and provide a powerful protective antioxidant boost without leaving behind the greasy aftertaste of regular liquid oils.
In particular, vitamin A can help balance out skin tone and eliminate fine lines and wrinkles. Vitamin A's role in collagen production makes skin smoother and more even in tone by minimizing the appearance of fine lines and wrinkles.
3. Improves skin tone
With its high concentration of vitamin C, rosehip oil effectively treats hyperpigmentation and dark spot discoloration to reveal more uniform and radiant skin. According to the best doctors, the high linoleic concentration in rosehip oil keeps you looking fresh and young all day.
4. Cleaning off makeup
If you have dry or sensitive skin, you should avoid using conventional cleansers and face washes since they may include chemicals that are too abrasive. Rosehip oil is a suitable replacement because it does not dry out the skin. Those whose skin is dry or prone to allergies may benefit most from using it.
Waterproof mascara and long-wearing foundation are no match for oil-based cleansers.
5. Healing wounds
This oil may be useful for reducing the appearance of scars and other disfigurements on the face because it contains anti-inflammatory fatty acids, and vitamins A and C, the holy grail of beauty ingredients.
Together, they contribute to repairing oxidative damage and promoting collagen synthesis in the skin. It may reduce the look of fine wrinkles and even stretch marks, in addition to helping remove hyperpigmentation on the skin.
6. Quickly mends scrapes, cuts, and burns
Burn and bruise healing time can be cut in half with the help of rosehip oil's anti-inflammatory and antioxidant properties. Furthermore, scarring can be avoided if essential fatty acids are present. Rosehip oil has been shown to reduce the formation of keloid scars and speed up the recovery time after wounds.
7. Helps to raise collagen production
Collagen is essential for the firmness and suppleness of your skin. Collagen production declines with age. Collagen production is significantly aided by the vitamin A found in rosehip oil. According to research, rosehip inhibits the production of a collagen-degrading enzyme called MMP-1.
Using rosehip oil for your face and body
Incorporate rosehip oil into your beauty routine by doing the following:
Use a gentle all-natural face wash to get things started.
Apply toner
Apply two to three drops of rosehip oil to your fingertips and massage it into your face, focusing on the areas around your eyes, nose, and forehead and ending with your chin.
The neck and butt cleavage are also accessible areas for treatment. Put the remaining oil to use by massaging it into your hands and cuticles.
Add a nice eye cream to your nighttime skincare routine for the finishing touch.
Possible side effects and risks
All skin types can use rosehip oil, but sensitivity is possible. The first time you use rosehip oil, you should do a skin patch test to make sure your skin is compatible with the oil.
If you are experiencing any of the following, it is recommended that you see a doctor:
Irritated, scarlet skin
The eyes itching and watering
Irritation in the throat, sickness, and vomiting
Conclusion
Rosehip oil, which has been shown to enhance the appearance of scars and fine lines as well as the overall health of the skin, is an attractive alternative because of the scientific studies that support its use. It's not only cheap and simple to use, but it's also thought to be harmless for most skin types.
If you want to use it on your skin anyway, it's best to consult a skin specialist beforehand.
1. How many times can I apply rosehip oil?
If you want to get the most out of rosehip oil, try using it in the morning and at night. Putting it on your skin or mixing it with your favorite lotion is how most people use this oil.
2. Can rosehip oil be used as a regular moisturizer?
Dry, or non-greasy, is the best way to describe rosehip oil. Since it's a natural product, it's wonderful for hydrating any kind of skin.
3. Does sensitive skin benefit from rosehip oil?
Because of its mild nature, rosehip oil is often well-tolerated. Those with eczema or sensitive skin can benefit from using it because of this.