During the cooler winter months, hosting dinner parties outside can be a unique and entertaining way to celebrate with friends and family. Even if it may be freezing outside, there are many delectable food options that can be enjoyed there. There are several outdoor dinner party menu ideas you can explore, from filling stews and soups to grilled meats and veggies.
In this article, you will get to know about the top 7 food ideas that you can consider using at the next outdoor dinner party in winter.
Idea # 01 – Stew and Soups
Nothing takes the chill off of a chilly winter night like a warm and comfortable cup of stew or soup. They are simple to prepare in advance and serve in big amounts. Hence, these dishes are ideal for outdoor dinner gatherings.
Some options for hearty stews and soups include beef stew with tender chunks of beef and vegetables in a rich broth, lentil soup with a flavorful blend of spices and herbs, and chicken and dumpling soup with fluffy dumplings and tender chicken. These dishes can be served with a variety of accompaniments, such as bread rolls, a crusty baguette, or grated cheese for added flavor and texture.
Consider putting up a self-serve station with the stews and soups in big pots or slow cookers, along with a range of toppings and accompaniments, to make the most of this menu suggestion. This enables your visitors to personalize their own bowls and take their time eating. Don't forget to provide cozy blankets and heat lights so that everyone may dine outdoors in comfort.
Idea # 02 – Grilled Meats and Vegetables
Another delicious choice for an outdoor dinner party in the wintertime is grilled meats and veggies. There are many various possibilities for grilled meals, and the smokey taste is guaranteed to please your visitors.
The following are some suggestions for grilled meats: steak, chicken, pork chops, or sausage. These go well with a range of veggies, including zucchini, bell peppers, onions, and mushrooms. Consider marinating the meats and veggies before grilling to give a little additional flavor. Serve the grilled meats and veggies with sides like roasted potatoes, grilled corn, and a Caesar salad to complete the dinner.
Idea # 03 – Build-Your-Own Nacho Bar
An entertaining and engaging choice for a winter outdoor dinner party is a build-your-own nacho bar. Provide a variety of components for the bar, including tortilla chips, ground beef or chicken, beans, cheese, salsa, sour cream, guacamole, lettuce, tomato, and jalapenos. Give your visitors the option to customize their own nachos by selecting their favorite toppings. Serve beer, margaritas, or iced tea as a pleasant beverage choice to enhance the entire meal.
Idea # 04 – Gourmet Hot Dogs and Sausages
 Gourmet hot dogs and sausages are a great option for a relaxed and enjoyable outdoor dinner gathering. These meals are simple to make and may be tailored to your guests' tastes with a choice of toppings.
Truffle, bacon-wrapped, and chili cheese are a few alternatives for gourmet hot dogs. Try serving sausages with peppers and onions for a traditional pairing. Serve the hot dogs and sausages with a variety of sides, such as baked beans, coleslaw, and potato chips, to complete the meal.
Idea # 05 – Slow Cooker Dishes
Another excellent choice for a wintertime outdoor dinner gathering is food prepared in a slow cooker. You may prepare these meals ahead of time and keep them warm in the slow cooker, which will let you enjoy the party without worrying about cooking all the time.
Chili pulled pork and chicken cacciatore are a few recipes that may be prepared in a slow cooker. These substantial, savory recipes go well with a number of sides, including buns, cornbread, and coleslaw.
Consider putting up a self-serve station with the meals and sides from the slow cooker to make the most of this menu suggestion. This enables your visitors to personalize their own plates and take their time enjoying the food.
Idea # 06 – Fondue Party
A fondue party would make for a fun and opulent outdoor supper gathering. Being able to prepare your own food at the table makes fondue a pleasant and convivial way to eat.
Set up the fondue party by supplying a variety of fondue pots with various fondue ingredients, such as cheese, chocolate, and vegetable broth. To add flavor and depth to the cheese fondue, think about using different cheeses such as Gruyere, Swiss, and cheddar.
For a variety of tastes in the chocolate fondue, consider using dark, milk, and white chocolate. Offer a variety of veggies for dipping into the vegetable broth fondue, including mushrooms, bell peppers, and broccoli.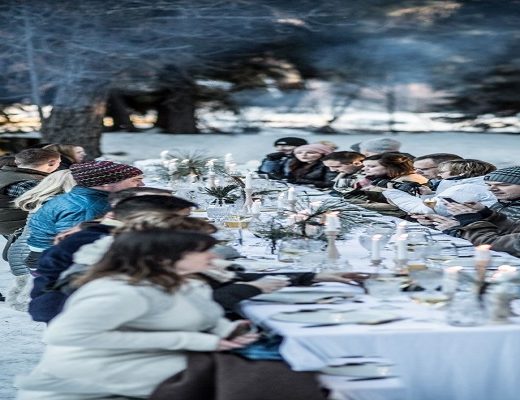 Conclusion
Outdoor dinner parties in winter can be a fun and memorable way to celebrate with friends and family. With a little planning and preparation, you can host a successful and enjoyable event that will have your guests feeling warm and cozy all evening long.
Whether you choose to serve slow cooker dishes, a build-your-own nacho bar, or a fondue party, the options are endless. Use the above amazing outdoor dinner party menu ideas to have a great dinner.