Let me introduce you to the beautiful world of Barcelona's furnished short-term and long-term rentals. Ensure you know what you're getting into before signing a lease in this exciting city. Furnished apartment rentals provide freedom and comfort, but there are a few things to remember to make the transition go well. Taking the time to carefully consider the apartment's location, rental fees, quality, and lease conditions will help you avoid unpleasant surprises in the future.
This manual will provide the background knowledge and factors you need to make a well-informed choice. You can confidently choose short term furnished rental apartments in Barcelona that are a good fit for your requirements and way of life if you know what to look for and ask the proper questions. So, let's dig in and check out the most essential aspects to think about before signing a rental agreement.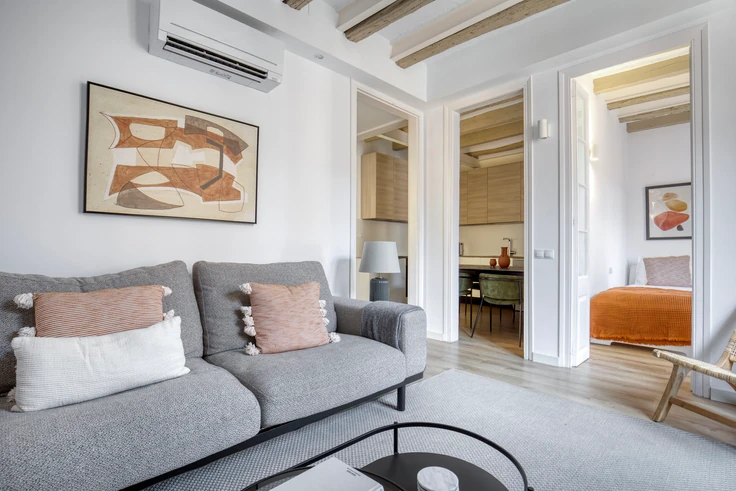 Essential Factors to Keep in Mind Before Signing the Lease
Inventory List
When looking for a furnished rental in Barcelona, asking for a detailed list of the apartment's included furniture is crucial. The inventory list is a thorough catalog of the apartment's contents and condition.
Authenticity and condition
You may double-check that what's on the inventory list is what's really in the flat. This will help you prevent any confusion or disagreements over the given furniture. You should double-check the condition and description of every item on the list.
Talk to the landlord
Second, talk to the landlord or property management as soon as possible if you find any problems or damage during the first walkthrough. Give them all the information you can, and if you have any photographs or videos, send them along as well. All parties involved will then be on the same page about the apartment's state.
Rental Costs
It is crucial to thoroughly evaluate the rental prices of a furnished apartment in Barcelona to ensure they align with your budget and contain all required expenditures. Costs and payment arrangements for the rental are discussed below.
Rental price
First, consider how much money you can spare each month for rent. Think about your income, expenses, and the life you want to lead. Consider whether the monthly rent is affordable in light of other units in the neighborhood.
Utilities
Find out exactly what costs are covered by your monthly rent payment. Water and electricity are usually included in rent, but you should verify this with your landlord or property management. Find out whether your utility use is subject to any limits or restrictions.
Payment terms
Learn the payment schedule mentioned in the lease. Establish the payment schedule (monthly, quarterly, etc.) and methods (bank transfer, cash, etc.) for rent. Ensure you know when your rent is due and any costs that may be assessed if you are late.
Costs beyond the original estimate
Know that there may be extra expenses, such as a price for cleaning, a fee for parking, or a fee for bringing a pet along. Find out what these charges are for and how much they will cost so that you can plan accordingly.
Security and Safety
When looking for a furnished apartment to rent in Barcelona, you must put your security first and determine what precautions have been taken.
Building security
Ask about the safety precautions taken in the building or complex. Inquire about the presence of any security measures, such as cameras, guards, or a locked entrance. Knowing the degree of protection provided might give you some much-needed calm.
Intercom systems
Look into the building's intercom system to see whether you can interview guests before letting them in. This feature improves safety by allowing for more stringent regulation of building access.
Locks
Ensure the apartment's main entrance, windows, and other entry points have working locks. The safety and privacy of your home depends on reliable locks.
Smoke alarms
Make sure there are working smoke alarms in the unit. These tools are lifesaving because they can spot potential fires before they spread. Check their functionality by conducting tests.
Fire extinguishers
Find out whether your unit or the building's communal spaces have fire extinguishers. A fire extinguisher nearby may help prevent a minor fire before it gets out of control.
Pet Policies
Before finalizing a lease for a furnished residence in Barcelona, it is essential to check the pet regulations included in the lease, especially if you already have or want to have a pet.
No pets allowed
Find out whether having a pet is prohibited. The number, size, and species of pets allowed in a specific apartment complex may be restricted. Verify that your prospective pet satisfies these limits to forestall potential problems.
Additional deposits or fees
Find out whether having a pet in the apartment will cost you more money or need a security deposit. Landlords or property managers sometimes require a pet deposit or monthly pet fee. Find out why you're being charged this money and how much it will cost.
Pet damage and liability
Know what you're responsible for if your pet causes harm. Find out whether the renter is responsible for any cleaning or damages caused by the pet. Knowing your responsibilities and acting accordingly to fix problems or avoid harm is crucial.
Pet references
Landlords and property managers may want to see references from past tenants or veterinarians who have treated your pet. Get these citations ready ahead of time if needed.
Conclusion
Before signing a lease for a furnished apartment in Barcelona, it is vital to consider the aspects above. This way, you can avoid unpleasant shocks during your tenancy by ensuring the apartment suits your requirements, tastes, and budget.