After the onset of the Covid-19 pandemic, nearly 56% of Americans have expressed their wish to create a will, trust, or a comprehensive estate plan to secure the future of their loved ones.
Estate planning can be an overwhelming process, especially when it comes to choosing the right lawyer to assist you. It's important to find someone who is knowledgeable and experienced in estate planning laws, as well as someone whom you can trust and can communicate well with.
So, why exactly should you hire an estate planning lawyer? And, when you decide to hire one, what are the factors to consider when choosing an estate planning attorney?
Let's find the answers to the above questions and discuss the reasons to hire an estate planning lawyer to ensure you get the best representation for your needs.
What Is Estate Planning?
Estate planning is the process of planning how to leave your assets and property to your loved ones after you pass away. It involves planning for the transfer of wealth from one generation to another, either through a will or trust.
Estate planning is a necessary part of the end of your life, and the process will generally involve a lawyer to ensure everything is legal and that all forms are filled out. Seeking advice from estate planning lawyers can be crucial to ensure that you are following the required regulations of your state. A great estate plan should focus on achieving your goals while minimizing estate taxes and avoiding probate.
The estate planning lawyers help families prepare for the transfer of assets and handle any potential disputes between heirs over who gets what. Having a power of attorney lawyer can also help you with
protecting assets from creditors,
arranging for long-term care, and
providing for heirs with special needs.
Recognizing Your Estate Planning Needs
It's important to understand your goals and objectives when it comes to estate planning. This includes determining how you want to distribute your assets, establishing trust funds for beneficiaries, and choosing a power of attorney to make decisions on your behalf.
Estate planning also involves understanding and following the laws that govern wills and trusts. Another important factor is any tax implications of transferring assets. Having a clear plan for your estate can help ensure that your legacy is protected for future generations.
Who Exactly Is an Estate Planning Attorney?
Estate planning attorneys provide legal advice on how to best protect and manage your assets for the future. They will work with you to help define estate planning goals and create a comprehensive estate plan.
Estate planning can involve estate tax planning, asset protection strategies, estate distributions, and more. With the right estate planning lawyer, you can have peace of mind knowing that your estate will be taken care of in the event of your death or disability.
Difference Between Estate and Probate Attorneys
Estate lawyers assist clients in setting up wills, trusts, or other estate planning agreements before their death. So, what does a probate lawyer do? Probate lawyers manage the probate procedure after a person passes away.
A lawyer for probate will often charge significantly for a simple procedure, and the process will often be tedious and long. On the other hand, an estate attorney will be a valuable asset, as we will see below.
6 Powerful Reasons Explaining How Estate Planning Lawyers Help With the Estate Planning Process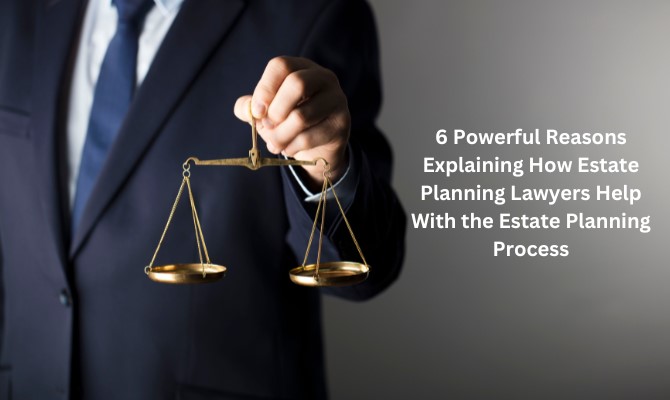 Now that we have cleared the basics, let's go over the 6 reasons why hiring an estate attorney is the best thing you can do for yourself and your loved ones. Let's navigate the 6 reasons together:
1. Drafting Legal Documents
An estate planning lawyer can help you create a will or trust to manage your assets and property after you pass away.
What is the difference between a trust and a will? Well, the basic distinction between a trust and a will is that a trust takes effect as soon as it is made, but a will only be effective after your death.
Estate planning lawyers are trained in the laws and regulations surrounding wills, trusts, and other legal documents and can provide valuable guidance to ensure that your wishes are carried out.
2. Avoiding Probate
Probate is the legal process of distributing your assets after you die. Probation can be a long and costly process, so many people choose to work with an estate planning lawyer to avoid it.
3. Creating Powers of Attorney (POA) And Transferring Property
An estate planning lawyer can also help you create powers of attorney, which allow you to appoint someone to manage your affairs if you become unable to do so.
An attorney can also help you with other legal matters related to your assets and property. Some examples are setting up joint ownership arrangements or transferring property to your heirs.
4. Creating Medical Powers of Attorney
A medical power of attorney (sometimes called a healthcare power of attorney) is a legal document. It is a different form of power of attorney. The document allows you to appoint someone to make decisions about your medical care if you are unable to do so yourself.
This person, known as your healthcare agent or surrogate, will have the authority to make decisions on your behalf. They will act based on your wishes and best interests.
A medical power of attorney can be used in a variety of situations, such as if you are unconscious, incapacitated, or otherwise unable to communicate your medical decisions.
5. Reducing Tax Liability
You must understand your obligations and rights under state tax laws to develop strategies to minimize your tax liability. Since no professional can provide specific and tailored legal advice without knowing the details of your situation, it is always best to consult with a qualified estate lawyer to discuss your particular scenario.
6. Bringing Peace of Mind Into the Procedure
It is a great relief knowing that your affairs are in order and your loved ones will be taken care of after you are gone.
Overall, an estate planning lawyer can provide valuable assistance in protecting your assets and ensuring that your wishes are carried out in the event of your incapacitation or death.
Conclusion
In conclusion, choosing an estate planning lawyer is an important step in planning your estate. It's important to choose a lawyer who is experienced, knowledgeable, and someone who is transparent in their procedures and accountable for their actions.
Consider the factors outlined above, research, and take your time when selecting a lawyer. Doing so will ensure that your wishes and legacies are respected even after your time.