The Dell Alienware Area-51 Threadripper Edition gaming PC was still in a pre-production stage when we reviewed it earlier this year. Although we gave you a brief overview of the system, we didn't feel ready to conduct a complete study of it. Since we were still doing urgent alien brain transplants on it at the time, we decided to upgrade the system's pre-production AMD Threadripper processor in order to bring it up to production silicon specifications.
Eventually, this monster Threadripper-powered Alienware system reached a point of maturity that we even used it as a megatasking demonstration vehicle for our evaluation and performance highlight of AMD Ryzen Threadripper. The Alienware team at Dell, meanwhile, was still working on the system firmware and a few new accessories to go with their most recent gaming computers. In order to review the Alienware Area-51 Threadripper Edition in what is now regarded as its final, retail-ready iteration, we are back here today.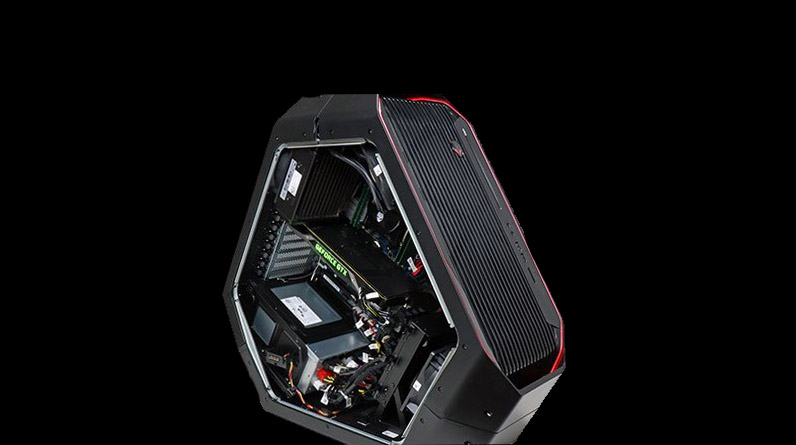 Dell Alienware Area-51 Threadripper Specifications & Features
Operating System
Windows 10 Home 64-Bit
Processor
AMD Ryzen Threadripper 1950X 16-Core/32-Thread,Overclocked on all cores (1920X also available)
Graphics
NVIDIA GeForce GTX 1080 Ti w/ 11GB GDDR5X, lower-end GPU options
mGPU – SLI/CrossFire compatible
Memory
32GB Dual Channel DDR4 at 2667MHz; up to 64GB, DDR4 XMP 2933MHz options
Optical Drive
Slot-Loading Dual-Layer DVD Burner (DVD±RW) (Standard)
Storage
256GB M.2 PCIe SSD
2TB 7200RPM SATA 6Gb/s (64MB Cache, 7,200 RPM)
Cooling System
Alienware Premium socketTR4 CPU Liquid Cooling
Connectivity
Dual Killer™ E2500 Intelligent Networking (Gigabit Ethernet NIC)
Killer 1535 802.11ac 2×2 WiFi and Bluetooth 4.1
Front Panel Ports
(2x) SuperSpeed USB 3.1 Gen 1 Type-A
(1x) Headphone 1/8″ Port
(1x) Microphone 1/8″ Port
(1x) Media Card Reader
Rear Panel Ports
(2x) RJ-45 Killer Networks E2500 Gigabit Ethernet Port
(2x) Hi-Speed USB 2.0 (6x) SuperSpeed USB 3.1 Gen 1 Type-A
(1x) SuperSpeed USB 3.1 Gen 2 Type-A
(1x) SuperSpeed USB 3.1 Gen 2 Type-C w/ 15W PowerShare technology
(1x) SPDIF Digital Output (TOSLINK)
(1x) Line-In (blue port)
(1x) Front L/R / Headphone (green port)
(1x) Center Channel / Subwoofer (orange port)
(1x) L/R Rear Surround (black port)
(1x) L/R Side Surround (white port)
Power Supply
Alienware™ 1500 Watt Multi-GPU Approved Power Supply with modular cabling
[80 Plus Gold Efficiency]
Dimensions
Volume: 59L (The space occupied by the external surfaces of the chassis)
Height: 22.411″ (569.25mm) Depth: 25.156″ (638.96mm) Width: 10.736″ (272.71mm)
Weight
Starting at: 61.73lbs – (28 Kg.)
Warranty
1-Year Hardware Service with Onsite/In-Home Service After Remote Diagnosis
Pricing
Starting at $2399
$3864 As Tested w/ Pro Gaming Keyboard And Advanced Gaming Mouse
AW 25 240Hz Gaming Monitor Sold Separately
Related: Enware Area51 Threadripper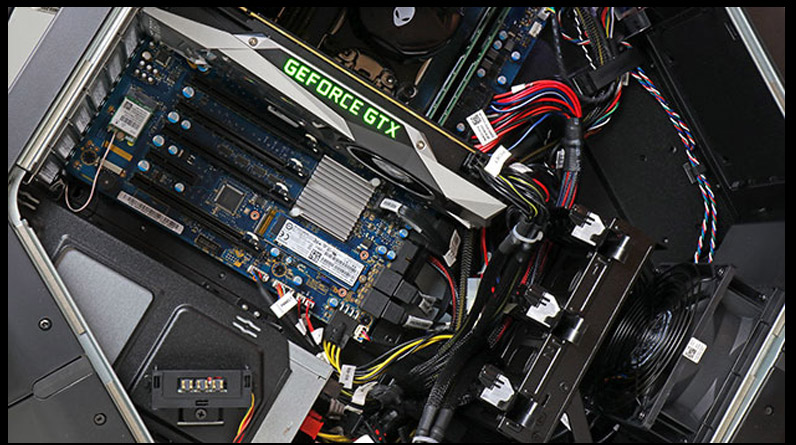 We would describe the Alienware Area-51 Threadripper Edition as a well-equipped, feature-rich computer. Support for AMD's Ryzen Threadripper platform's most recent innovations, such as NVMe solid state drives, quad-channel DDR4-2666MHz (and higher) memory, and multi-GPU systems, is available. For low latency gaming and packet prioritization, wired and wireless Killer Networks gaming NICs are also available. The absence of Thunderbolt 3 connectivity from this version of the Area-51 is essentially the only significant omission. Despite having a USB Type-C connector, it can only connect at a 10Gbps USB 3.1 Gen 2 rate as opposed to 40Gbps if Thunderbolt 3 was supported. Although creative pros would not need this for an external storage attachment, the connector does support 15 Watt PowerShare.
The chassis design has remained largely unchanged since we looked at our first system more than two years ago, with the addition of the bespoke Threadripper TR4 socket AiO liquid cooler. This is the R3 version of the machine.
And that's a good thing in general. Although the choice of a chassis is certainly a matter of taste, we have a soft spot for the Area-51 Triad mid-design, tower's which draws cool air in through its front grill and exhausts warm air out the back on a slope upward, above its graphic card cage, and in the direction that heat rises. The PSU is situated near the bottom of the system, which allows all of the subsystems that produce the most heat to exhaust out the machine's rear while being slightly elevated for superior thermal management.